Apply Online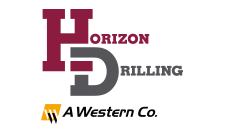 Horizon Drilling is the 6th largest drilling contractor in Canada with 50 drilling rigs operating through-out Western Canada and with 2 more rigs being built. Our modern efficient fleet of rigs has an average age of 7 years. We are committed to providing a safe and effective work environment and recognize the value that each employee brings to the overall success of the company. We maintain our focus on providing leadership and guidance to bring out the best in our people. We believe that our dedicated employees and quality equipment have attracted our loyal customer base that has provided us with some of the busiest rigs in the industry. This translates into more consistent hours for our crews and greater earning potential for you.
At Horizon Drilling each employee is more than just a number and will be rewarded and recognized for their commitment to the company. When you chose a career with Horizon Drilling you can feel confident knowing you are working amongst the best in the business, so apply today and become a part of our team!
Back
To submit your application please complete the form below. Fields marked with a red asterisk * are required. When you have finished click Submit at the bottom of this form.